150 Cheers for Pi Kappa Alpha's Founder's Day at Birch Hill!
On March 24th, 160 vibrant college students and RPI alumni filled our Columbia Ballroom decked out with Pi Kappa Alpha's unique style. Returning to Birch Hill Estate for the third year to celebrate with a Founder's Day formal, this frat is always keen to party in exciting new ways. From enjoying drinks on the private patio with a 15-foot fire-wall to saying cheers by an elaborate food display, check out how Pi Kappa Alpha commemorated their 150th anniversary with Birch Hill Catering.

Developing a Unique Fraternity Party Theme
Embracing a Hallmark Fraternity Party Theme
Pi Kappa Alpha's personal Birch Hill event coordinator knew this year's party would be an exceptionally significant one—calling for some serious upgrades to their custom menu and décor. To celebrate 150 years since the fraternity's founding, Pi Kappa Alpha chose a 150 cheers theme and was open to all our creative event ideas to create a remarkable experience.
To craft an extraordinary atmosphere around the 5,600-square-foot dance floor, our event designers used custom LED uplighting to augment the 30-foot cathedral ceiling with looming champagne Batiste fabric. We also helped arrange for a custom designed 150th banner that tied in the burgundy and gold color scheme and helped to signify the importance of such a huge milestone.
Refreshed Annual Founder's Day Formal Décor
To showcase their fraternity's colors, Pi Kappa Alpha once again requested ivory tables with alternating burgundy and gold napkins. We also placed custom candle centerpieces to add a layer of warmth and sophistication to the tablescape. Since it was their 150th Anniversary, they wanted to add a captivating focal point. A custom ice luge that poured a delicious cranberry and vodka cocktails did just that—treating guests to an equally beautiful and tasty drink.

An Elevated Cocktail Hour Menu
Pi Kappa Alpha had their mouths set for premium hors d'oeuvres and knew our team would artistically present them in high-impact ways. The Birch Hill Bistro display did just that, offering guests an irresistible array of small bites. In addition to two featured hot items—meatballs with marinara and mozzarella and pretzel bites with jalapeno-ale cheese—guests chose from the following popular appetizers:
Assorted cheeses
Smoked meats
Artisanal dips
Vegetable crudité
Fresh seasonal fruits
And, of course, we also upgraded the bar—the Pina coladas are something guests look forward to every year. And knowing some would travel across the country just to attend, we would not want to disappoint them!
A Fine Dinner Menu
Dinner is the time for guests to relax and appreciate the great organization that they are so proud to represent. Each year, we design Pi Kappa Alpha's custom menu to exemplify the skill and class that characterizes its tremendous members. This year, guest enjoyed a garden salad with creamy house balsamic and their choice of the following delectable entrees:
Prime rib au jus
Chicken fontinella
Jumbo shrimp scampi
Cavatelli with vegetables
Vegan mushroom risotto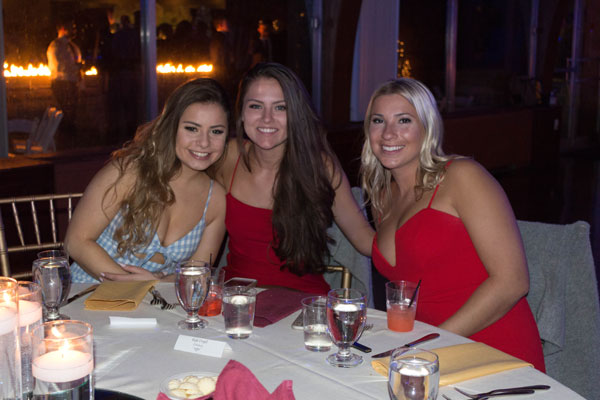 Served with roasted garlic mashed potatoes and sautéed green beans, each beautifully presented dish was perfectly balanced.
Celebrating Success Together
We love to see current students and alumni come together to celebrate milestones. And we are so glad that we can do the same—working closely with partner vendors to deliver flawless events. We want to extend a sincere thank you to Kaleigh Kennedy, who photographed this notable event, and Matt Johnson, who took charge of the music. We are so proud that our coordinated efforts could once again exceed expectations. And we appreciate Pi Kappa Alpha's representative, Nigel Robinson, expressing gratitude for our team's efforts:
"They were very accommodating to all of our needs, wants and concerns. The food was prepared to perfection and the ballroom that we were in was especially elegant. We are set to hold our next Founder's Day formal at Birch Hill Catering next year as well."
We are already looking forward to once again applying 80 years of event experience to seamlessly execute Pi Kappa Alpha's 2019 event plans. We hope you too will give us the honor of helping you plan an unforgettable event.
If you would like our dedicated experts to facilitate your event dreams, contact us online or give us a call at 518.732.4444.
More articles you might enjoy:
< Back